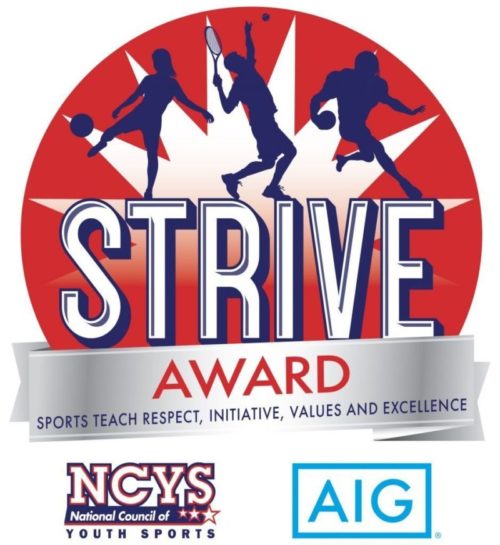 CoachSafely Foundation named finalist for NCYS STRIVE Award
For the second time in 2019, the CoachSafely Foundation has been recognized by a respected national organization for its work in keeping Alabama's youngest athletes, its children, active, healthy and safe.
The National Council of Youth Sports has chosen CoachSafely as one of five finalists for its STRIVE Award for Organization of the Year. According to the NCYS, "this award recognizes organizations (that are) implementing promising practices and policies to protect young athletes. This award praises organizations' commitment to young athletes' health, wellness and safety. It demonstrates that Sports can Teach Respect, Initiative, Values and Excellence without compromising safety."
The non-profit CoachSafely Foundation was recognized for its leadership in authoring, lobbying for and implementing Alabama's landmark 2018 Coach Safely Law. The first of its kind in the nation, the law mandates that all youth coaches of athletes aged 14 and under complete a comprehensive training course in injury prevention, recognition and response. The law covers "any organized sport in which there is a significant possibility for a youth athlete to sustain a serious physical injury," or virtually all sports taught in the physical education curriculum and offered in recreational youth programs.
CoachSafely developed the evidence-based and peer-reviewed training course, which has been approved by the Alabama Department of Public Health, and entered a joint venture with the Alabama Recreation and Parks Foundation to deliver the training course to youth coaches – at no cost to those coaches – through the membership of the Alabama Recreation and Parks Association. The ARPA has 900 members in 92 of the state's largest cities, representing the majority of the state's population. Through September of 2019, the ARPA delivered the CoachSafely training course to more than 15,000 youth coaches in more than 200 communities throughout the state of Alabama.
The other STRIVE Award finalists are: ABC Park Youth Sports, Babe Ruth League, United States Youth Soccer Association and US Club Soccer. The winner will be chosen through a combination of judges' scores and online voting results. You can vote here once a day through Dec. 12.
Earlier this year, the CoachSafely Foundation was honored by the Aspen Institute's Sports & Society Program as a Project Play Champion. Of the 20 local, regional and national organizations to earn the designation for their work in helping to build healthy children and communities through sports, CoachSafely is the only one based in Alabama.
The National Council of Youth Sports, which presents the STRIVE Award along with AIG, is comprised of a who's who in the youth sports industry. Its membership serves 60 million boys and girls registered in organized youth sports programs. NCYS is known for its advocacy in promoting healthy lifestyles and safe environments that contribute to stronger neighborhoods and communities.
— Kevin Scarbinsky, CoachSafely Foundation director of communications