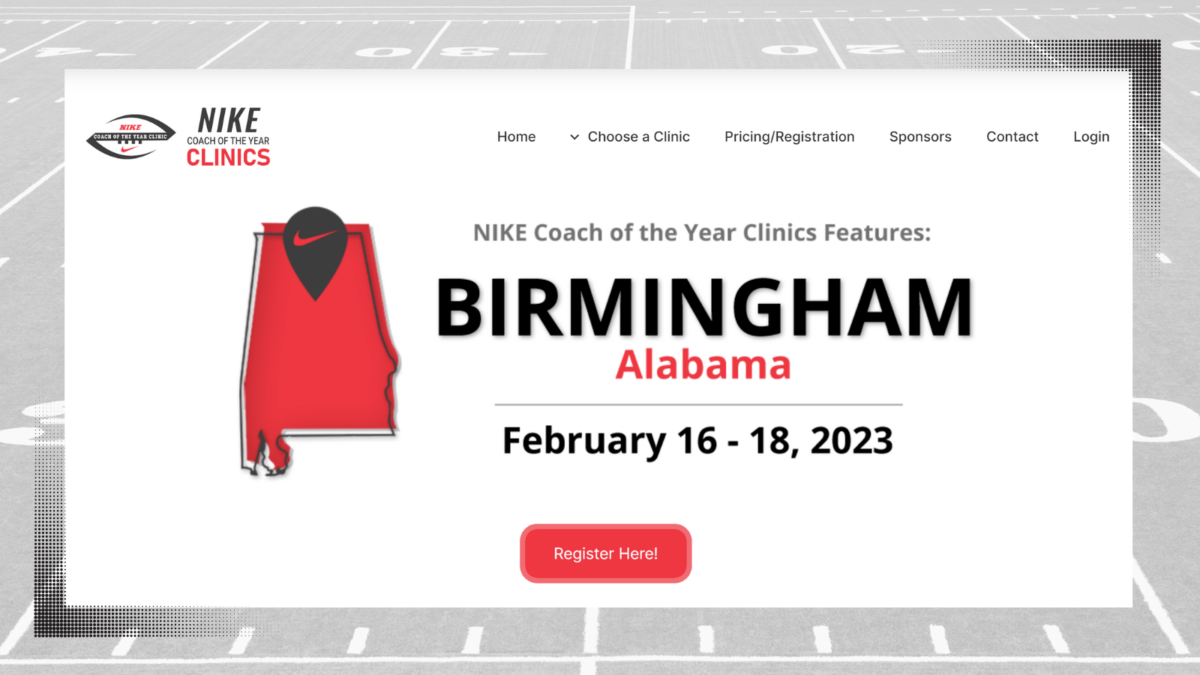 Bill Clark to lead Nike Clinic in Birmingham; youth coaches are invited, too
Bill Clark still remembers that day in the late 1980s. He was the offensive line coach at Piedmont High School, soon to be the defensive coordinator. He was attending a coaching clinic, and in walked Dave Wannstedt. The University of Miami defensive coordinator made quite an impression, first with his leather jacket, then with his detailed discussion of the 4-3 defense built on speed, which helped the Hurricanes win multiple national titles.
"I wanted to learn from the experts," Clark said.
Clark would become one of those experts, and passing on his knowledge to high school, middle school and youth coaches became a passion. So after his retirement from UAB, when Nike decided to stage its Coach of the Year Clinics in person again in 2023, it was a natural that Clark would land one of those clinics for Birmingham.
With trusted friend and longtime UAB assistant Randy Pippin as clinic director, Clark will lead the three-day event Feb. 16-18 at the Westin Hotel and Protective Stadium. Coaches at every level are invited to attend, including youth coaches, and they can register here.
"Coach Pippin and I have long talked about it," Clark said. "If the time came where I wasn't doing my own clinic at UAB, that would be something we would get involved in. After I retired, we started trying to get one here, and we were able to do that. It's really a chance to do something for Birmingham. We have such great high school coaches in our area. We have such great football in our area. Coaches will stay in our hotels, they'll eat in our restaurants and they'll talk ball. We've got a Who's Who of speakers coming."
Big-name college and high school football coaches will share their insight
The lengthy speaker list includes Clemson's Dabo Swinney, LSU's Brian Kelly, Steve Sarkisian of Texas and, of course, Clark. Before he retired last summer, he spent eight years and six seasons at UAB. The university shut down the program after his first year, announced it would return six months later, and Clark authored one of the greatest comebacks in college football history, which he labeled The Return℠.
"We've always said Birmingham is the Football Capital of the South," Clark said. What UAB accomplished during his tenure added credibility to that historic catch phrase, and he said he wants this clinic to add to that legacy. It's one of only seven Nike Coach of the Year Clinics in the country and the only one in Alabama.
Besides big-name college head coaches as speakers, the event will include proven college assistants such as Clark's former UAB coordinators, Bryant Vincent and David Reeves; accomplished performance coaches such as UAB's Lyle Henley and the USFL's Zac Woodfin; and state championship high school coaches such as Thompson's Mark Freeman and Ramsay's Ronnie Jackson.
Clark said the clinic will involve "a true exchange of ideas." He has spoken at Nike Coach of the Year Clinics many times through the years going back to his days at Prattville High School. They compiled a book of all the clinic speeches each year, and Clark remembers the first time one of his talks was included.
"That was such a big deal to me," he said. "Now they have two books, one for high school coaches and one for college coaches, but back then it was one book. You were in there with the Pete Carrolls and the Lou Holtzes and the Nick Sabans. That was a big deal for a high school coach. For me, it was a validation for somebody who was a fan of reading that book for years."
CoachSafely will discuss injury recognition and prevention at the youth level
In a unique addition to this clinic's lineup of experts, retired college coach Jack Crowe and the CoachSafely Foundation will be there to discuss the importance of training youth coaches in injury recognition and prevention, which the foundation's state-of-the-art online course does. Clark, the CoachSafely Foundation's vice president, is inviting youth coaches to attend the clinic.
"We'd love for youth coaches to come," Clark said. "We always want to talk about the safety of the game. All these things are so integral to the game. How do we practice? How do we teach tackling? You can learn so much. We would love to get youth coaches there. That's the future of the sport."
— Kevin Scarbinsky