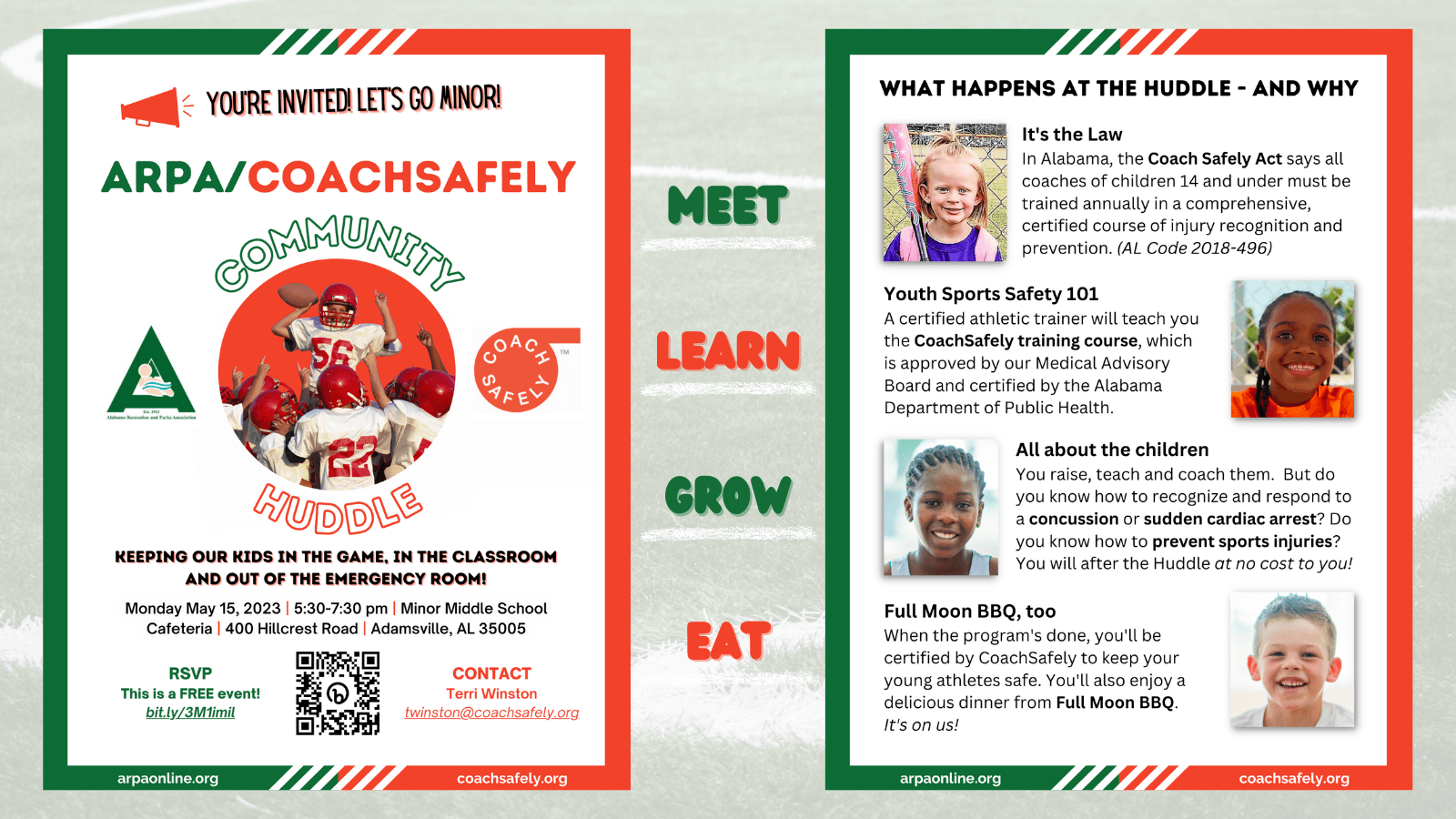 ARPA and CoachSafely kick off Community Huddles to meet coaches and parents where they live
The state of Alabama has an unsurpassed legacy of sports excellence. Consider just a few of the all-time greats with roots in the Heart of Dixie: Jesse Owens and Joe Louis, Hank Aaron and Willie Mays, Charles Barkley and Bo Jackson, Jennifer Chandler and Rowdy Gaines, Mia Hamm and Vickie Orr. Not every young athlete will grow up to be a Hall of Famer, but every child in Alabama should have the opportunity to experience the many benefits of youth sports participation, which extend far beyond the field.
To help our children develop healthy habits that can last a lifetime, the CoachSafely Foundation designed HEIRS, the Health Equity, Injury Reporting and Safety program. HEIRS is a natural extension of the ARPA/CoachSafely Initiative, our partnership with the Alabama Recreation and Parks Association, which delivers the CoachSafely training course to youth coaches and parents statewide at no cost to them.
To help achieve true health equity for all of Alabama's children, the HEIRS program will present Community Huddle events across the state to reach youth sports coaches and parents where they live. Each Community Huddle will feature a brief presentation on the importance of youth sports safety, a CoachSafely training session led by a certified athletic trainer and a delicious meal, all on us.
The Community Huddle program will kick off Monday May 15 at Minor Middle School in Adamsville and Tuesday May 16 at Fultondale Elementary School. All youth sports coaches, parents and educators are welcome to attend. You can register for the Minor Community Huddle here and the Fultondale Community Huddle here.
If you're interested in bringing a Community Huddle to your school or city to train your coaches and parents to keep their young athletes active, healthy and safe, please contact Terri Winston, CoachSafely's director of policy & programs, at twinston@coachsafely.org.