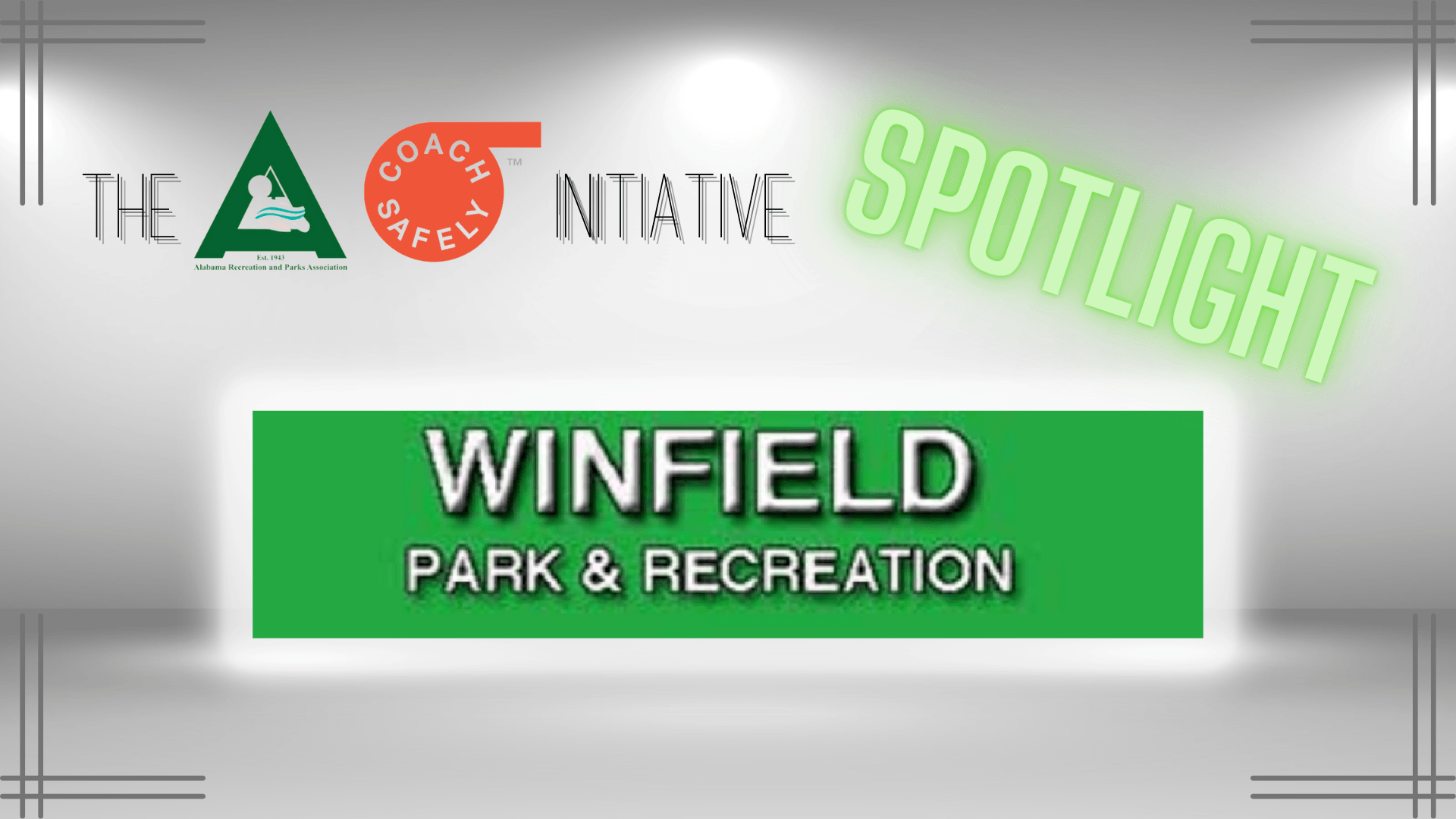 Winfield adds the personal touch to CoachSafely training
Stop by the Winfield Community Center on Thursday March 31st about 6 p.m., and you may wonder why so many cars have filled the parking lot and so many people have gathered inside. Put it this way: Gina Bryant has organized another important event to benefit local children, and Melinda Wilson is the featured speaker.
In Winfield, when those two pillars of the community come together, they are sure to draw a crowd. 
Bryant is the longtime park director for the Winfield Park and Recreation Department, an Affiliate Member of the Alabama Recreation and Parks Association. Wilson is a sports medicine coordinator for Encore Rehabilitation and a certified athletic trainer who works with the CoachSafely Foundation. They have been key drivers of the statewide ARPA/CoachSafely Initiative, which delivers the state-of-the-art CoachSafely training course to youth coaches to help them protect their young athletes in compliance with the state's groundbreaking 2018 Coach Safely Act.
On Thursday, Winfield will host its sixth in-person CoachSafely training session for youth coaches, and Wilson again will be the instructor.
"Melinda Wilson is a hometown girl," Bryant said. "If you tell someone Melinda Wilson is coming, they will be there. Everybody knows she knows what she's talking about."
Even though she and her family recently moved to Killen, Wilson is a born-and-raised former Winfield High School athlete whose position with Encore is still based there. She's earned a reputation as someone who, as Bryant said, "if your child got hurt riding their bicycle at midnight, she would still help you. There's no one like her."
Wilson is equally complimentary of Bryant and the leadership she brings to Winfield Park and Recreation. 
 "They provide great opportunities," Wilson said. "Gina's always out trying to figure out something new," like introducing track and field as a youth sport this spring, which has attracted about 60 participants.
"Gina's taken care of my kids basically since they were born," Wilson said, including the time she baked a special birthday cake for Wilson's daughter who couldn't eat eggs or peanuts because of food allergies.
"She goes above and beyond to make sure she takes care of her people," Wilson said. 
Bryant has gone the extra mile in support of the ARPA/CoachSafely Initiative by coordinating these periodic in-person training sessions. She said "one exciting opportunity" about Thursday's session is that it will welcome coaches from non-ARPA-member communities participating in a multi-county baseball and softball league with Winfield. Those coaches can complete the course to satisfy the requirements of the Coach Safely Act, which applies to all youth coaches in Alabama regardless of affiliation, and learn the benefits of ARPA membership to share with their communities.
Bryant understands that park and recreation administrators have an obligation to the young people they serve, their communities and their organizations to make sure their coaches are in compliance with the Coach Safely Act.
"I've been stressing it this way," Bryant said. "Look, folks, if you don't do this and a kid gets hurt, you're liable. Obviously, the children's safety is first and foremost, but you have to keep that (liability) in the back of your mind as an administrator, too."
Bryant made sure that Winfield was an early adopter of CoachSafely training after the 2018 law, the first of its kind in the nation, was passed. She heard Jack Crowe, the CoachSafely Foundation founder and chairman, discuss the law and the training course at an informational meeting in Haleyville. Winfield Park and Rec already required its coaches to complete "Heads Up" concussion training from the Centers for Disease Control and Prevention. The original CoachSafely course covered concussions and so much more, including overuse injuries and heat-related illnesses.
"We were on board immediately," Bryant said.
The course has since been expanded to include education modules on mental health, communicable and infectious diseases and sudden cardiac arrest. While the course is available online, there are parts of the state where broadband access is limited at best. Bryant said in-person training sessions address that issue while adding a personal touch with Wilson facilitating, sharing first-person real-world examples and answering questions after each video module.
The largest session to date in Winfield has trained 103 coaches. The March 31st gathering may top that number because of Wilson's local reputation as well as Bryant's outreach efforts and uncompromising standards. She wants to do everything she can to make sure her coaches are as prepared as possible to keep their young athletes safe. 
"There is not an option," Bryant said. "If you coach here, you take the course."
— Kevin Scarbinsky, CoachSafely Director of Communications